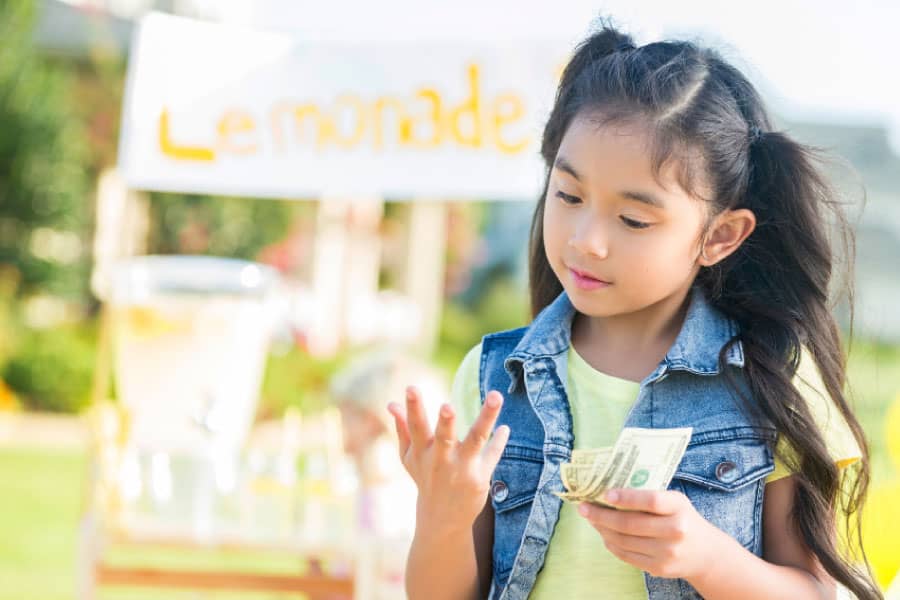 Raise Money Smart Kids with an Entrepreneurship Homeschool Curriculum
The world of work is changing. And it'll have changed even more by the time our kids have grown up. What better way to prepare our children for an uncertain future than teaching them about business and money? In this way we empower them to take charge of their careers. And including an entrepreneurship homeschool curriculum is the perfect way to gain the necessary skills.
This post contains affiliate links. This means I earn a commission, at no extra cost to you, should you choose to sign up for a program or make a purchase using my link. Each purchase is much appreciated by me and the companies I love! Please read my full blog disclosure.
My husband and I are both entrepreneurs. Neither of us went to business school so we've learnt everything through trial and error. I know there's a lot of merit in this, but at the same time, it takes time, stress and some really lean periods! I would love my kids to skip some of the tough bits and that's one of the reasons we're including an entrepreneurship homeschool curriculum to teach our kids about business.
The Life Skills Kids Learn with an Entrepreneurship Homeschool Curriculum
There are loads of different areas of expertise needed for successful entrepreneurship. Apart from business basics, there's a lot of personal development that also needs to happen. I know this first hand! And this is probably my favourite part of it all! You know how much I love all things mindset! I think it's one of the most important elements in my life that has helped me to be a happy and thriving working homeschool mom!
Here are some of the life skills kids learn when embarking on an entrepreneurial journey…
They learn to pivot and change when things aren't working.
Their creativity is honed at many points in their journey.
Problem-solving and having a growth mindset also develop naturally with the process.
Children learn and practise people skills and working collaboratively, which are incredibly important as an entrepreneur.
I love the fact that my kids can learn these things at an early age. I wish I had learnt a lot of this when I was younger! It gives them time to incorporate personal growth into their thinking. And I know that it will set them up for success later in life.
Why Expose Our Kids Early to the World of Business?
As a homeschooler, it can feel like a huge responsibility to educate and raise our kids right. I'm sure you've had the same feeling at one time or another? But I want to flip this and see it as a huge advantage! We get to prepare our kids for what really counts…like running a business!
Some of the reasons why it's good to let our kids be exposed to the world of business when they're young are…
allowing them to make mistakes when they're young and more able to bounce back more easily,
giving our children the opportunity to really deep dive into something in order to master it,
letting them try something out when the stakes are low,
and encouraging them to develop grit and resilience, while supporting them every step of the way.
Choosing an Entrepreneurship Homeschool Curriculum
You might not be a business owner yourself, so the idea of teaching your kids about starting and running something, might overwhelm you. Luckily, I have a great solution for you. Let me introduce the Boss Club Entrepreneurship Homeschool Curriculum. And it's also a great opportunity to learn right alongside your kids!
Boss Club is a comprehensive curriculum that teaches kids, between the ages of 10 and 18, all they need to know about starting a business, running a business and succeeding at business. They also teach all my favourite life skills too. Here are some of the features we really enjoy…
It's a self-paced programme that includes videos and a variety of other resources to teach kids with practical examples. The video are short enough to keep kids engaged and interested, which is a plus for my children.
Apart from covering business basics such as design, marketing, sales and finance, it also encourages kids to give back to their community! I love this element of the programme!
There are a lot of printable resources, including the full curriculum, if you like to work with physical books.
The Boss Club guys also have a podcast, for kids who want more. They've been discussing YouTube over the last few episodes, which I know is a very popular business idea for our kids.
But let Charlie and David tell you themselves…
Are Your Ready to Raise Your Kids to Be Money Smart?
If you're ready to sign up, then you can click here. And be sure to use my 10% discount code at checkout. CHARLOTTEJONES247
I'm so excited to see how your kids do with the programme. You can also ways drop me a comment below or tag me on Instagram. And feel free to reach out at any time with questions.